Sweep of the Heart
INNKEEPER CHRONICLES #5
AVAILABLE ON DECEMBER 13, 2022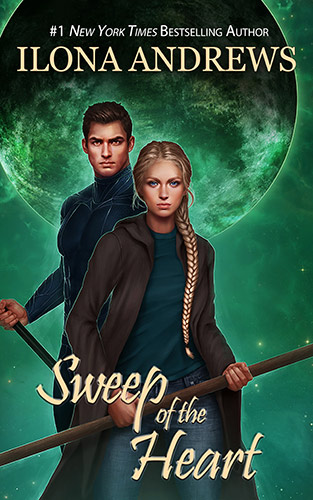 From the New York Times #1 bestselling author, Ilona Andrews, comes a fun and action-packed new adventure in the Innkeeper Chronicles! We invite you to relax, enjoy yourself, and above all, remember the one rule all visitors must obey: the humans must never know.

Life is busier than ever for Innkeeper, Dina DeMille and Sean Evans. But it's about to get even more chaotic when Sean's werewolf mentor is kidnapped. To find him, they must host an intergalactic spouse-search for one of the most powerful rulers in the Galaxy. Dina is never one to back down from a challenge. That is, if she can manage her temperamental Red Cleaver chef; the consequences of her favorite Galactic ex-tyrant's dark history; the tangled politics of an interstellar nation, and oh, yes, keep the wedding candidates from a dozen alien species from killing each other. Not to mention the Costco lady.

They say love is a battlefield; but Dina and Sean are determined to limit the casualties!
PREORDER FROM ONE OF THESE FINE RETAILERS
Print book: Will be available on release date. POD editions do not permit preorders.
Audio book: Not yet, will be recorded in October. Here is the cover.
---
Excerpt
This excerpt is from an advanced copy and may contain typos and other mistakes.
The gate lay far from the center of the bazaar. We'd been walking and jogging for over twenty minutes, and we had left the brightly decorated streets behind awhile ago. Here the air was ominous, the canvas roofs of the stalls faded and tattered, and trash littered the cobblestones. This wasn't the fun-shopping part of Baha-char. You didn't come to this place unless you wanted something specific you could only get here, and the grim-faced vendors gave us dark looks as we passed.
A merchant on our left, a strange creature with the shaggy body of a sloth, a massive beak, and furry tentacles instead of limbs, screeched as we passed. It was hanging upside down off the top frame of its shop, anchored to it by its hind tentacles, and I had no idea what species it was, which almost never happened. When we got home, I would have to look it up.
A large stone arch loomed ahead, its brown stone worn and scarred. Remnants of red banners hung from it, bleached by the sun to a dirty pink and torn to shreds by the desert wind. Tall buildings with barred windows crowded the arch on both sides, creating a long gloomy tunnel.
We strode through it. A draft fanned us, bringing a thick, potent scent, an off-putting musk. Some kind of animal had marked its territory here.
The musk grew stronger. I fought the urge to clear my throat. I could taste it on the back of my tongue. Next to me, Sean grimaced and kept going.
The tunnel ended and we emerged into a round plaza formed by a single circular building. Three oversized stories high, the building stretched to the sky, offering rows and rows of balconies and stone benches. Strange creatures and elaborate glyphs had been carved into its sandy stone façade, once sharp, but now smoothed and blurred by time.
The plaza itself was perfectly round, formed with remarkable precision and paved with giant triangular slabs of stone that radiated from its center. In the middle of it two stone towers rose. The base of each was a tall trapezoidal prism that flowed into a three-dimensional crescent toward the top. The two crescents faced each other, crowned with green flames burning in metal braziers.
"This is the Old Arena," I whispered.
Sean glanced at me.
"They used to have gladiator fights here thousands of years ago. There are three of them in Baha-char. Two are still active. See that gate across from us? The gladiators entered there and then fought to the death. When a fighter died, their flame would go out."
Each of the stone spires sported a network of delicate blue veins, metal yet liquid. They glistened weakly in the sunshine. The portal vines. One of the easiest ways to set up a teleportation gate. This had to be a recent addition.
Directly opposite us, something stirred in the gloom of the gate. Something large.
A massive leonine paw moved into the light, easily five feet across. Claws shot out and struck the stone.
Oh no.
A colossal shoulder followed, then the other, then the broad muscular chest sheathed in sandy fur, a thick neck crowned with a dark rust mane, and finally the giant head, a strange, disturbing mix of lion and human, anthropomorphic, horrifying, yet cohesive. This wasn't a mishmash of two species. This was a naturally evolved being, who just happened to resemble a huge predatory cat with human eyes on its face.
Sean's upper lip wrinkled in a precursor to a snarl. If there ever was a monster designed to terrify his people, an Auul kaiju guaranteed to evoke instant revulsion among the werewolves, the creature in front of us would be it.
"Is that the guardian?" I asked.
"Yep."
A sphinx. Crap.
#
The sphinx approached, his movements unhurried, almost lazy, circled the two towers, and lowered himself to the ground by the one on the left, facing us. The huge gold hoops in his ears tinkled. His long tail stretched all the way to the right tower. He curled around the two spires like a cat clutching a toy to his belly.
Sean watched him. He wasn't focusing on him the way he sometimes zeroed in on his opponent. Rather he was watching him with the detachment of a satiated wolf seeing a bunny hop around in a distant field, curious, but not enough to get up. It was a ruse. Sean was all in. The sphinx put himself between Sean and Wilmos, and Sean wouldn't tolerate it.
The sphinx stretched. The sun slid over his isabelline fur, highlighting the paler belly and chest and drawing the eye to the rust brown bands on his limbs and tail. A thick line of darker fur ran from the inner corners of his brilliant violet-blue eyes over his upper lids to the outer corners and across his cheeks, a feature that once inspired centuries of kohl eyeliner.
"No wings?" Sean murmured.
"We don't want to see the wings."
"You came back," the sphinx purred. His deep voice reverberated through me. "And you brought a friend."
This was bad.
"Did he ask you any questions?" I whispered.
"I offered to answer his question if he solves my riddle." The sphinx studied the claws of his right forepaw. "He declined."
I exhaled.
"Would you like to solve my riddle?"
"No. Why are you here? Your kind is not permitted at Baha-char."
The creature's tanzanite eyes flashed with an angry fire. "Permitted? I go where I please."
Only four dark rings on his tail, and the gold hoops in his ears were simple. This was a very young sphinx, an adolescent. Fully grown adults had seven rings and their jewelry was ornate and elaborate. This one couldn't be more than 300 years old.
"It's a simple bargain," the sphinx said. "Solve my riddle, and I will tell you where the thing took the old werewolf. Is it your father, your grandfather, male human? Is he family? I would do anything for the sake of my family."
"Don't," I warned Sean.
The sphinx inhaled, sucking the air in. A slight draft pulled on my hair and robe.
His eyes flashed again. "I smell fear. Scared little werewolf. Don't be afraid. There is nothing to worry about. I promise to make your riddle very simple. Just hard enough for your little brain."
"Don't answer that," I told Sean.
There had to be a way around it.
"I'll do it!"
I turned. The female werewolf strode into the arena, her head held high. Oh no.
"You don't know what you're doing," I started.
"Be quiet, human." She marched forward, giving Sean a look of withering scorn. "Ask your riddle. I'll answer."
The sphinx pivoted toward her.
"You're in danger. This is a terrible idea," I told her. "He…"
"Unlike some people, I'm not a coward." She faced the sphinx.
"Stop!" Sean snapped.
She ignored him. "Ask your riddle."
Magic swirled around the sphinx. Two massive golden wings thrust from its back, unfolding, each synthetic feather sharp like a glossy metal blade. A shadow fell upon the Arena as they blocked the sunlight.
"The pact has been made," the sphinx announced.
Thin tendrils of gold light wound about the werewolf woman, binding her in place.
"Say my name, and I will disappear. What am I?"
The werewolf woman opened her mouth. Uncertainty flared in her eyes.
"Not another word," I said. "If you answer wrong, he will devour your mind."
The sphinx's feline lips stretched, revealing a row of four-foot fangs, white and sharp like swords.
The werewolf woman paled.
"This is why they're banned from Baha-char," I told her. "They trap beings with their riddles and when they don't get the right answer, they absorb their minds. Your body will live on, but you will not. Don't say anything. Don't even cough. He can't touch you until you make a sound."
She clamped her lips shut.
I had to save her. I had to do something.
Sean had a familiar contemplative look on his face. There were many species Sean could kill with a knife, but a battle with the sphinx would be incredibly difficult. No, we needed to beat him on his own terms. We needed…
Wait.
"I'll be right back. Sean, don't do anything until I come back."
I took off at a run. Behind me the low rumble of sphinx's chuckle rolled through the Old Arena.
I dashed through the streets, veering left and right. Here's hoping he hadn't left yet.
The side street spat me out onto one of the main thruways. I crossed it and climbed the stone stairs on the side of the building leading up to the terrace above. The Tooth of Shver, a massive ivory fang twelve stories tall and carved into a terraced palace, rose to my left, and the sapphire glass tower was straight across. Okay, I knew where I was.
I jogged along the terraces, crisscrossing the streets on narrow bridges, turned right, jogged for another four blocks, turned right again, and finally emerged into a wide street.
A towering tree rose in front of me to a hundred and fifty feet, its bark hard and smooth, more stone than wood and swirling with deep red, gold, black, and creamy white as if it were made of brecciated jasper. Its thicker limbs were a full twenty feet in diameter, its thinner branches were about five feet across, and most of them were hollowed, punctured with windows and ornate doors. Balconies curved around the entrances, cushioned in the tree's natural foliage, clumps of thin branches with triangular emerald-green leaves.
Here's hoping he was still here. The last I heard he'd chosen to hold his classes here, but that was three months ago.
I headed to the entrance, a ten-foot-tall door in the thick trunk and knocked.
Twin cameras swiveled toward me from above, looking like two dandelions on thin stalks. A high-pitched voice emanated from a hidden speaker.
"What do you want?"
"I'm here to see the First Scholar."
"The supplicant hours are not now. Come back tomorrow."
"I have to see him. It's an emergency."
"The First Scholar is busy. He has no time for you now. Come back tomorrow."
Oy. "The First Scholar knows me."
The voice let out an exasperated chirp. "Human! The First Scholar is very important. Very busy. You are a not-important stupid human. Go away!"
If making a good impression wasn't crucial, I'd be hopping up and down from sheer frustration. "Tell him Dina of Earth is here to see him."
"Dina?" A voice asked from above.
I backed away from the door. Far above me the First Scholar emerged onto the balcony of one of the higher branches. He was about three feet tall, plump, and old, with feathers that had gone completely white except for the touch of scarlet on his bushy tail and the tips of his wings. Two dinosaurian arms thrust out from under his wings and gripped the balcony rail with clawed hands. His beak was yellow, and his eyes were round and bright like two brilliant zircon jewels.
The official name of the species was koo-ko. Sean called them space chickens and refused to keep to the proper name. They had held a philosophical debate at Gertrude Hunt last Christmas and since nobody died, it was considered a resounding success.
The First Scholar spread his wings. "Dina!"
"First Scholar!"
"We meet again!"
A smaller, younger male koo-ko with turquoise tips on his wings emerged from the doorway behind the First Scholar and plopped an elaborate headdress of golden wire and jewels onto his head.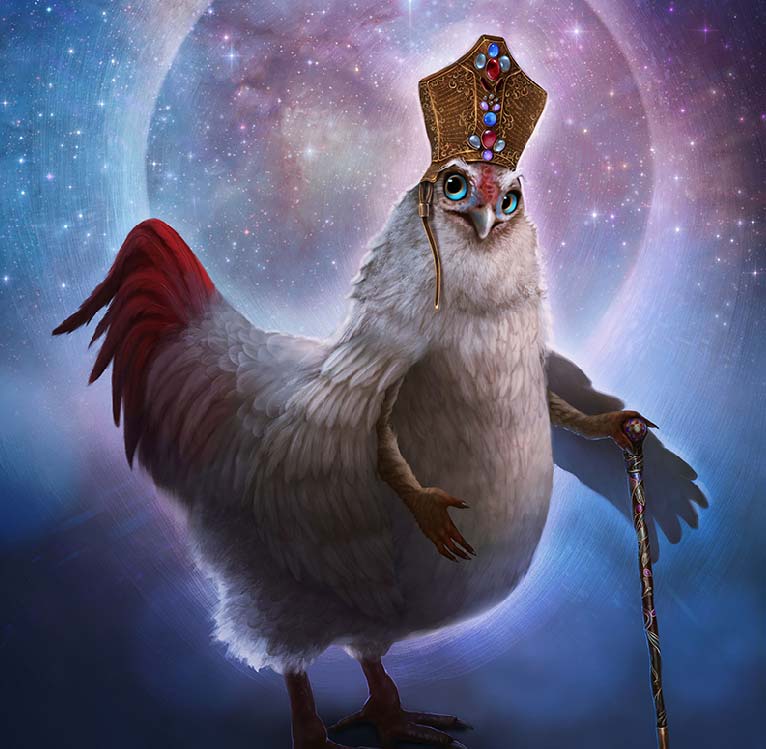 "Your tree has many branches," I told them. Flattery never hurt.
The First Scholar preened. "Yes, it is splendid, isn't it? It can house all of our students, faculty, and staff. What brings you here?"
"I need your wisdom, Great Scholar."
The First Scholar's eyes sparkled. "What may I do for you?"
"Someone I know has been trapped by a sphinx."
The First Scholar's feathers stood on end. "Here? At Baha-char? They are banned from the Great Bazaar!"
"It's a juvenile male. The riddle has been asked, and by the time the authorities catch on, it might be too late. Please help me, First Scholar. I will be in your debt."
The First Scholar drew himself to his full height. His headdress listed to the left, threatening to fall off his head. "Not another word. I will take care of this."
The koo-ko assistant pointed at the doorway and murmured something.
"It will be a teachable moment," the First Scholar declared and waved his wing at the doorway. "Come!"
A flood of koo-ko of all sizes and colors erupted onto the balcony. They spilled over the rail, spread their wings, and glided to the ground around me. One, two, five… ten… I lost count. Their belts and harnesses differed but every single one came with a holder containing a fat scroll. It looked like they were carrying a personal roll of toilet paper with them. Normally it made me giggle in my head, because somewhere deep inside I was seven years old and potty humor was still funny, but right now any humor was in short supply.
The First Scholar pushed his headdress back onto his head.  "Pay attention, young ones. This will be an experience you must commit to memory. Form a flock and bring me my teaching stick!"